So it appears between Nutello and Huntress' Ineptitude
We have landed right smack in the middle of something called
.
This is not a card game, dice game or a board game.
It is a game where you are the playing piece
in the middle of some wilderness
and you are Hungry.
And everyone is Hungry and all the food must be
in that Cornucopia in front of us
Because everyone is running to it and
they are so hungry that they are killing each other
to get to the food.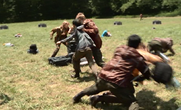 Nutello is calculating risks and routes.
Huntress is blasting opponents with her grenade launcher
and laughing maniacally
(I have to learn that how to do that laugh!)
and Playdo......
well he's uh....
Just walking up to the Cornicopia!
And me---well I am too valuable to be at risk
So I am in the woods
Under a log.
Filling up on Grubs
Does that mean I win??